The UPST partnered with UITS and campus CIOs to drive the rationalization of the UMass system IT Value Added Resellers (VAR) supplier base into 4 strategic contracts. With over 10,000 active IT VAR suppliers, the initiative aimed to rein in the number of active information technology suppliers to ensure accountability, compliance, and proactive supplier management. The 4 strategic IT VAR suppliers that UMass has contracted with includes, Gov Connection, Whalley, WEI, and CDW-G, all of which have been doing business with the system for some years now. 
Increase IT procurement efficiency by satisfying University policy requirements competitive procurements
Drive aggressive pricing to ensure UMass campuses are receiving a thorough and fair rate for goods and services
Create supplier-customer transparency through accountability and regular business review
Efficiency

BuyWays Catalogs to allow for faster point & click, purchasing and electronic invoicing 

Professional Services and managed services 

Ability to bulk purchase and store assets at VAR distribution centers for pre-kitting, imaging, asset tagging, etc. 

Pricing 

Pre-negotiated hourly rates for professional services 

Aggressive pricing, ~13.5% below UMass current competitively bid pricing 

UMass still retains the right to bid out large projects 

Terms and Conditions  

Service levels with teeth (24-hour quote turnaround for most commoditized products, shipping, response times, etc.) 

Robust warranties and return rights 

VAR business reviews with supporting analytics to ensure VAR performance 
Project Achievements
Rationalized over 1600 vendors to 4 strategic vendors with WEI being a WBE (Women's Business Enterprise: the business is owned, managed, and controlled by a woman or women.)
Standardized specifications on spending
An estimated 12-20% in overall cost reduction
Market intelligence that validates competitive pricing 
Additional operational benefits such as SAM (Software Asset Management: eliminates license redundancies, consolidates licenses, better navigate licensing agreements, avoid illegal application usage and stay on top of contract renewals. 
User Guide
To ease the transition into the VAR program, the UPST has created a Contract User Guide that outlines each of the four suppliers and their offerings as well as some frequently asked questions. Please reach out to your campus leads for any questions about the program.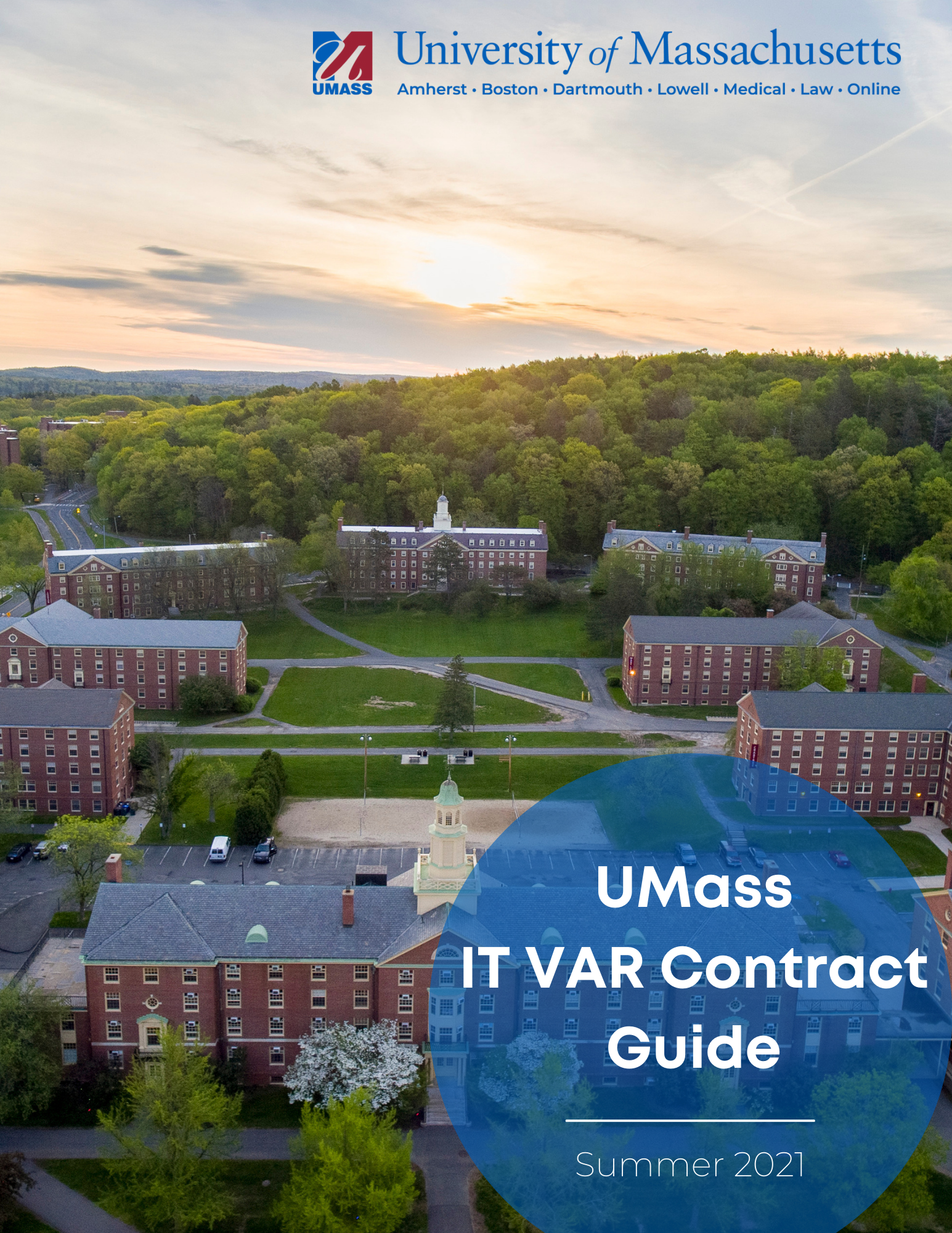 Have Questions?
Amherst:
Kathie Terry
Dalila Dos Santos 
Teri Delude 
James Mileski 
Boston: 
Chan Medical: 
Dartmouth: 
Jacqueline Ryan
Margaret Dias 
Lowell: 
University Information Technology Services (UITS):
Office of General Counsel (OGC):
John Chayrigues
Allison Lepper
Unified Procurement Services Team (UPST):
Neha Ajgaonkar
Charles Kotecki
John Healey
Michael Durkin