UPST Updates
Higher education as a whole is considered to be a slow-paced environment for change and innovation when it comes to procurement and accounts payables. However, with the creation of UPST, the UMass system is looking to challenge this narrative, as many non-higher education industries like healthcare, manufacturing, agriculture, and even food services, have already embarked on this journey of reducing manual repetitive tasks, by automating these tasks. 
The UPST is working with UITS and other UMass partners to identify the best use cases and automation strategies to adopt for our high-touch repetitive process activities. Although automation may seem scary to the non-initiate, the benefits it will provide to UMass outweighs any perceived risks it will pose i.e.:  
Optimized process tasks 

Improved compliance 

Cycle time improvement 

Resource cost reduction

Improved transparency/ visibility through quality data, reporting, and analytics

Enhanced scalability to additional processes with minimal uplift
As UPST/ UMass continues evaluating the automation strategies to adopt depending on each process scenario, some typical automation strategies adopted include Robotic Processing Automation (RPA), Optical Character Recognition (OCR), and Machine Learning.  Sample UMass use cases for these strategies are shown below: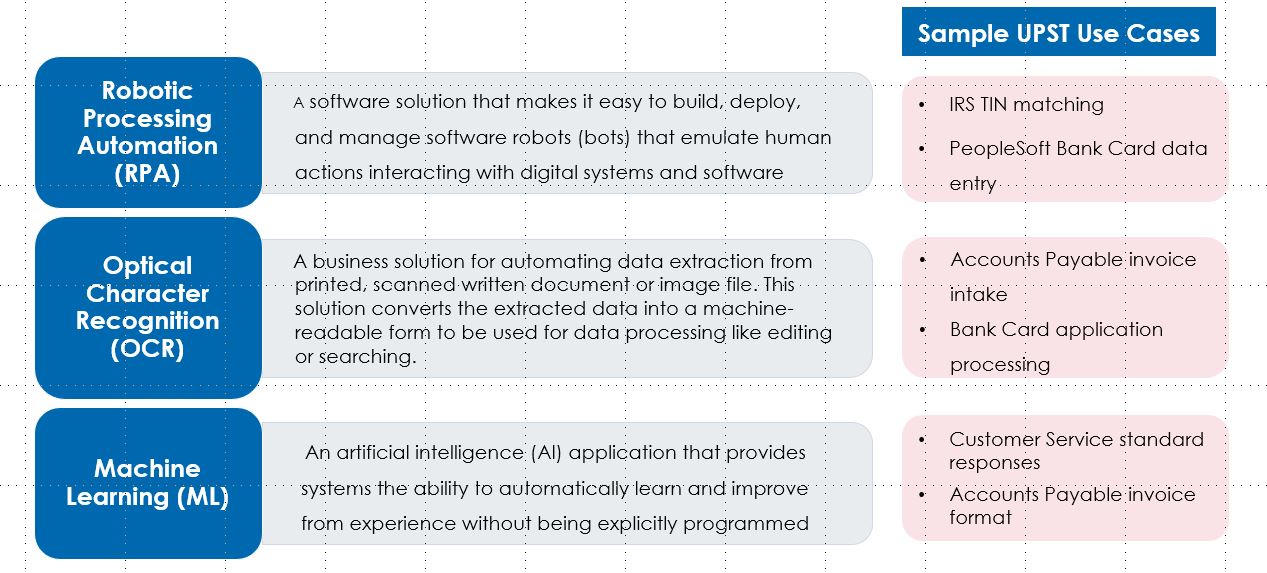 For more information on the exciting automation projects being evaluated, reach out to us,upst@umassp.edu, with your questions.