Purchasing & Payment Services
The UPST, in alignment with the UMass system, is making it a priority to highlight and drive diversity amongst its suppliers. Diverse suppliers are known to encounter more barriers than non-diverse suppliers, i.e. start-up and sustainability costs, limited resources/capital, limited networking opportunities, etc. As the second-largest employer in the state and the top educator of Massachusetts residents, UMass has a direct connection to one in ten Massachusetts households and has an annual economic impact on Massachusetts of more than $7 billion every year. Our goal is to ensure that our supplier diversity program has as much impact as our education work on our community and households.
With this enormous potential impact on our communities, the UPST aims to ensure that UMass enhances its Supplier Diversity program to support the overall UMass diversity goals. But we are not doing this in a vacuum, our goal is to optimize the overall Supplier Management program to ensure that the diversity program is built on solid foundations. The image below shows our Supplier Management Program view: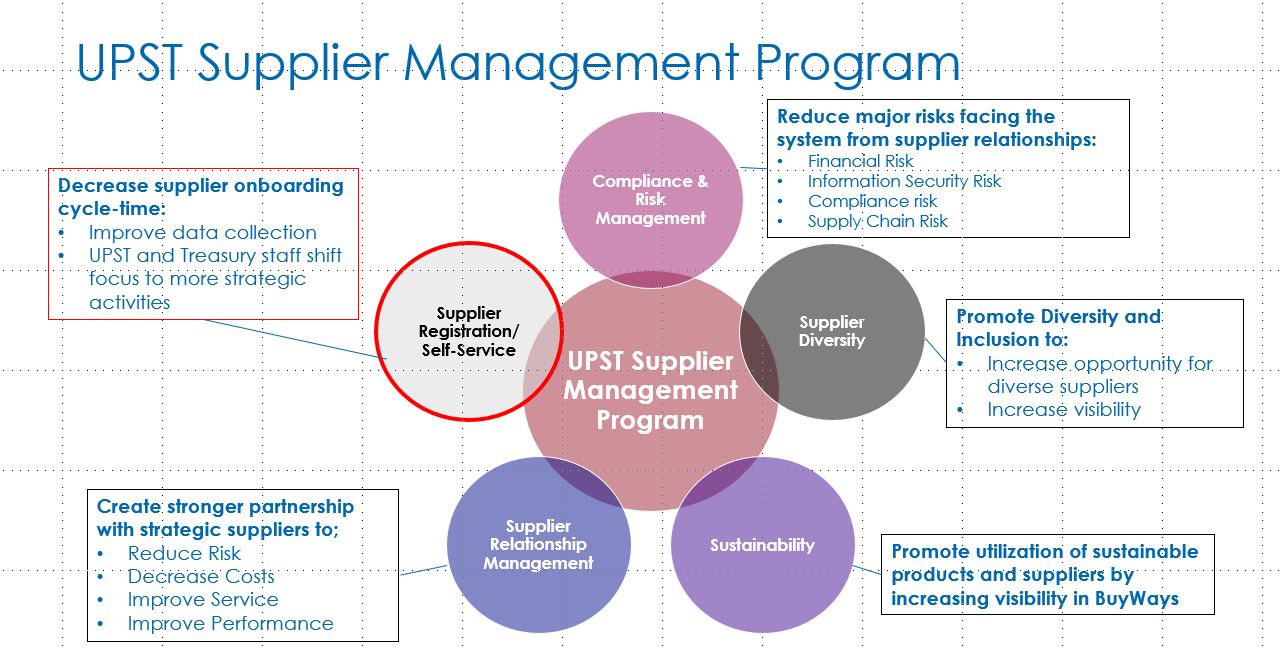 Specific to the Supplier Diversity Program, the UPSt is working with other stakeholders on the following:
Strengthening the diversity requirements on all bids/RFx issued by the system.
Building out networks with supplier diversity affinity groups, i.e. Pacesetters, to drive engagement within our communities.
Participate and/or coordinate supplier diversity roadshows or events to create more avenues of partnerships between UMass and diverse suppliers.
Reach out to us, upst@umassp.edu, to learn more about the UMass Supplier Diversity Program or our Supplier Management capabilities as a whole.