UPST Updates
FY21 was a roller-coaster year for UPST with us hitting major highs on transaction levels i.e. achievement of more than $22M in annualized cost savings, i.e. ~ 2X of FY20 savings of $11.6M! Apart from the savings numbers, general transaction volume started returning to pre-pandemic levels with some even exceeding their FY20 volume:
Contract Requests increased by 92% in FY21 (1,443) over FY20 (751) volume.
Bank Card Requests increased by 151% in FY21 (2,696) over FY20 (1,073) volume, driven by the deployment of the new Bank Card Program.
Customer service requests increased by 48% in FY21 (25,754) over FY20 (17,343).
~76% increase in sourcing events completed in FY21 (102) over FY20 (58).
Although the volume of invoices, requisitions, and travel & expense transactions processed is still below pre-pandemic levels, the team continued to work on process improvement, policy harmonization, and automation projects to support your daily needs.
A detailed listing of the FY21 transaction volume is listed below: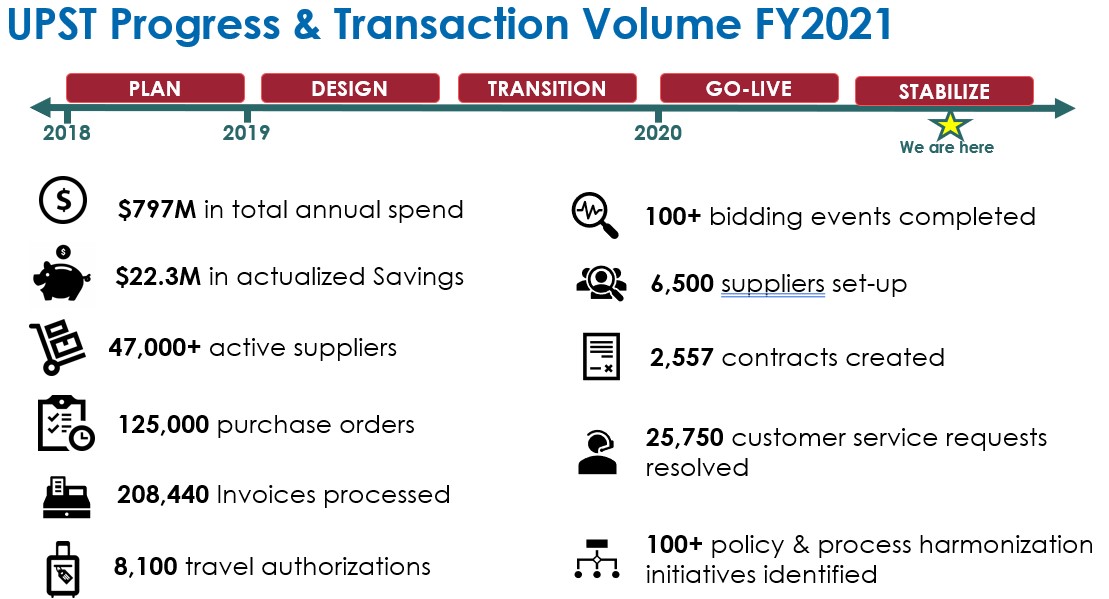 Reach out to u, upst@umassp.edu, for any additional information on the numbers listed here.