The ERM Program governance structure defines roles and responsibilities across the ERM Program. This ensures diverse, systemwide representation in the ERM process from
across disciplines and facilitates integration of strategies across the system.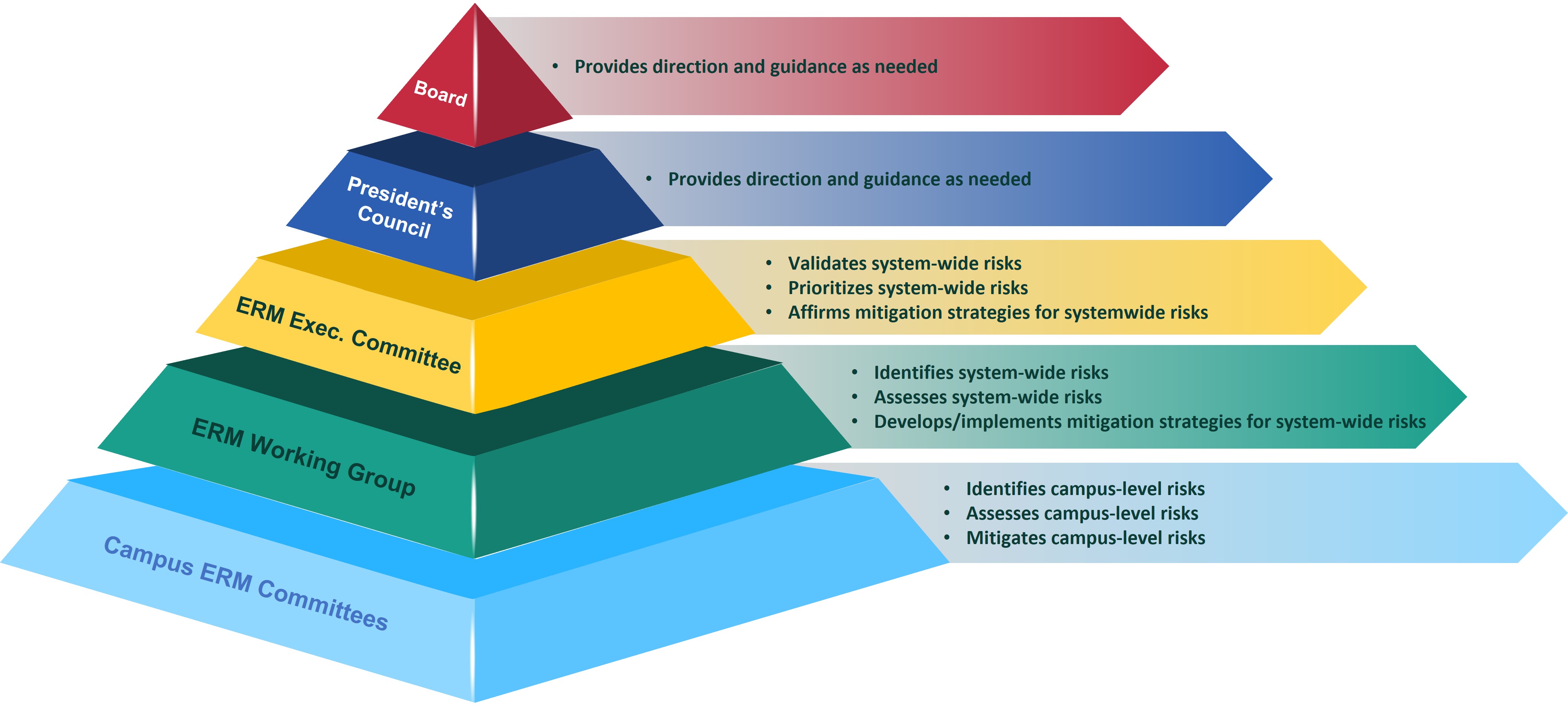 The governance structure is comprised of the following:
Board of Trustees: The UMass Board of Trustees (BOT) fully supports the systemwide ERM Program and provides direction and guidance to the Program. The BOT Audit and Risk Committee receives an annual update on the Program at a regular meeting of the Committee; additional BOT committees are provided updates as needed.
President's Council: Consisting of the President, the President's senior staff, and each Chancellor, President's Council actively supports the Program, providing direction and guidance as needed.  
ERM Executive Committee: Consisting of leadership representatives from the campuses and President's Office, the ERM Executive Committee validates and prioritizes risks and affirms risk mitigation strategies.
ERM Working Group: Consisting of campus ERM representatives and seventeen discipline-specific subject matter experts from across the university system, the ERM Working Group identifies and assesses systemwide risks, and develops, implements, or monitors risk mitigation strategies.
Campus ERM Committees: Membership may vary from campus to campus, but Campus ERM Committees are responsible for identifying, assessing, and mitigating campus-level risks.
Executive Committee Membership
| LAST NAME | FIRST NAME | CAMPUS | TITLE | EXECUTIVE COMMITTEE SEAT |
| --- | --- | --- | --- | --- |
| Calise | Lisa | UMPO | Senior Vice President and Treasurer, Administration and Finance | SVP, Administration and Finance |
| Culverwell | Marcy | Medical | Senior Associate Vice Chancellor, Administration and Finance | Medical School |
| David | Kyle | UMPO | Director, Internal Audit | Director, Internal Audit |
| Giuliani | Chris | Boston | Associate Vice Chancellor for Administration and Finance | Boston |
| Hescock | Jeff | Amherst | Director, Environmental Health and Safety | Amherst |
| Karberg | Andrew | UMPO | Associate Counsel, Compliance, Ethics, and International Affairs | Research |
| Leone | Gerry | UMPO | General Counsel | General Counsel |
| Miliano | Tom | Lowell | Associate Vice Chancellor, Administrative Service | Lowell |
| Milligan | Michael | UITS | Chief Information Officer | Chief Information Officer |
| Subbaswamy | Kumble | UMPO | Interim Senior Vice President, Academic and Student Affairs | SVP, Academic Affairs |
| Packard | Christine | UMPO | Assistant Vice President, Enterprise Risk Management | ERM/Chair |
| Pasquini | LeeAnn | UMPO | Associate Vice President Administration and Finance | AVP, Administration and Finance |
| Piggott | Robyn  | Dartmouth | Chief of Staff | Dartmouth |
Working Group Membership
LAST NAME
FIRST NAME
CAMPUS
TITLE
MEMBERSHIP SEAT
Britton
Kristen
Amherst
Senior Associate Athletic Director
Subject Matter Expert - Athletics
Brooks
June
Medical
Senior Director, Compliance and Policy
Campus ERM Lead
Carragher
Candyce
UMPO
Senior Executive Associate to the Senior Vice President
Subject Matter Expert - Academic Affairs and Student Affairs
Coleman
Brian
Medical
Associate Chief Information Officer - Information Security
Campus ERM Lead
Comeau
Justin
Boston
Manager, Emergency Planning & Business Continuity
Campus ERM Lead
Conklin
Shane
Amherst
Associate Vice Chancellor for Facilities and Campus Services
Subject Matter Expert - Facilities
Culverwell
Marcy
Medical
Senior Associate Vice Chancellor, Administration and Finance
Campus ERM Lead
Dunlap
John
UMPO
Chief Human Resources Officer
Subject Matter Expert - Human Resources
Durkin
Michael
UPST
Director, Strategic Procurement
Subject Matter Expert - Procurement
Edelman-Blank
Deborah
Lowell
Director, Counseling Services
Subject Matter Expert - Health & Mental Health
Hescock
Jeff
Amherst
Executive Director of Environmental Health and Safety & Emergency Management

Campus ERM Lead

Subject Matter Expert - Safety and Security

Hitchcock
Patrick
UMPO
Controller
Subject Matter Expert - Controller
Hoey
John
UMPO
Executive Director, Communications
Subject Matter Expert - Communications
Karberg
Andrew
UMPO
Associate Counsel, Compliance, Ethics, International Affairs
Subject Matter Expert - Legal
LaGrassa
Michael
Dartmouth
Associate Vice Chancellor of Administrative Operations & Compliance
Campus ERM Lead
Majewski
Deb
Dartmouth
Vice Chancellor of Human Resources
Campus ERM Lead
Mayers
Darryl
Boston
Assistant Vice Chancellor for Contracts and Compliance
Campus ERM Lead
Packard
Christine
UMPO
Assistant Vice President, Enterprise Risk Management
Campus ERM Lead
Patel
Tejal
OGC
Assistant Counsel, International Affairs and Immigration
Subject Matter Expert - International Activities
Russell
Andrew
UMPO 
Senior Assistant Vice President of Operations and Associate Treasurer
Subject Matter Expert - Tax
Scano
Derek
UMPO
Assistant Director, Internal Audit
Subject Matter Expert - Internal Audit
Skrzek
Joseph
UMPO
Assistant Vice President for Budget and Planning
Subject Matter Expert - Finance
Smith
Bradford
UITS
Chief Information Security Officer
Subject Matter Expert - IT
Stockwell
Joshua
UMPO
Associate Counsel for IP and Research
Subject Matter Expert - Research
Tucker
Joshua
UMPO
Insurance Analyst
Subject Matter Expert - Insurance
Walker
Nefertiti
UMPO/ Amherst

Deputy Vice President, Academic & Student Affairs & Equity

Vice Chancellor, Diversity, Equity and Inclusion

Subject Matter Expert - Diversity, Equity, Inclusion and Accessibility
Wood
Rick
Lowell
Director, Office of Life Safety and Emergency Management
Campus ERM Lead
Yanka
Ruth
Amherst
Executive Director Administration & Finance Operations, Vice Chancellor Administration and Finance
Campus ERM Lead